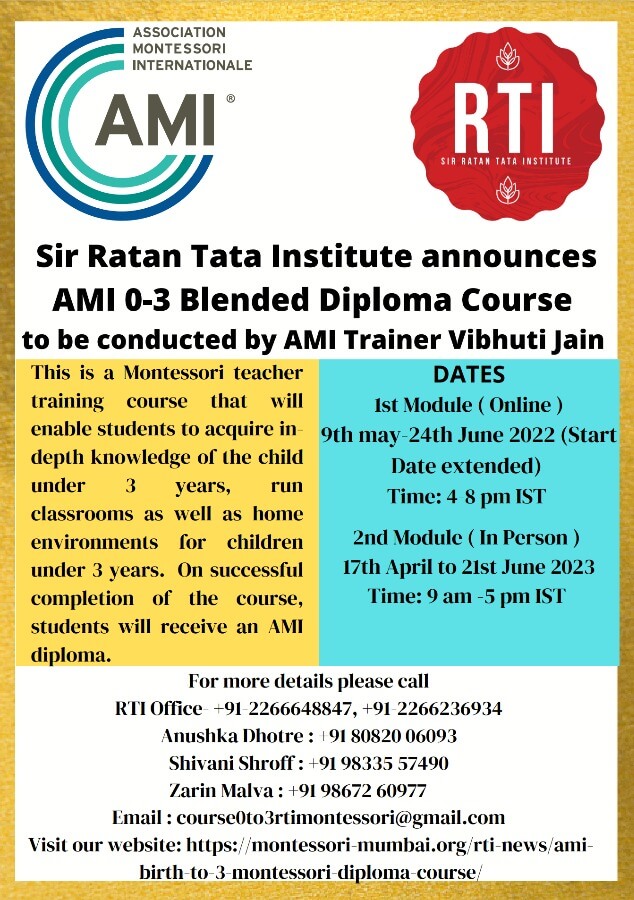 Assistants to Infancy/Birth -3 Diploma Course 2022-2023
Course Description
This is an AMI certified diploma course involving in-depth study of Montessori Pedagogy, current medical and psychological approaches to child development from Birth -3 years.
Course Delivery
The course will be delivered over 2 modules, in a blended format. The first module will be delivered online over May – June 2022 (8 weeks) in the evening hours, 4-8 pm IST and the second module will be delivered face to face/ offline /in-person in April, May, June 2023 (9.5 weeks) tentatively 9 am -5 pm with around an hour-long lunch break. The course will be delivered in English. The schedule is subject to change.
Covid Accommodation
We expect students to be fully vaccinated before the second module as per the protocol prescribed by the Government of India to ensure safety for all. In case, Covid outbreak restricts the course for being in-person during the second module, then we will need to change the schedule accordingly till it is safe to run the course in person.
Eligibility
Anyone who is a graduate and is interested in learning about the child under 3 years can apply for the course. Students need to be proficient in the use of computers, have access to good quality internet as well as email.
Course Fees
The course fees are payable in full. They have to be paid before the commencement of the course and will not be refunded once paid. Please contact us before making payment.
These are the 3 categories and the break up (in INR) is as follows: –
| | |
| --- | --- |
| Category | Total Tuition fees payable |
| Indian Student | 1,90,000.00 |
| Asian Student | 2,50,000.00 |
| Non-Asian Student | 3,50,000.00 |
Application Process
The application form needs to be duly filled in and emailed to [email protected]
The application form needs to have the following documents: –
2 recent passport size photograph
One reference letter from person of professional standing in the community, confirming the applicant's suitability for the course.
A copy of your last educational qualification certificate or equivalent.
Copy of Vaccination certificate
Copy of Montessori Diploma or Orientation /Assistant course at any other level.
Life sketch giving an Overview of your life.
We will close admission as soon as we reach the maximum enrollment.
Bank Details for Indian Students Only: Please send Transaction details and a Screenshot to [email protected]
Sir Ratan Tata Institute,
Bank Name: Bank of Baroda, Gamdevi Branch,
A/c No: 03940100024173
IFSC Code: BARB0GAMDEV
MICR Code: 400012026
Bank Details for Asian and Non-Asian Foreign Students Only:
Please send Transaction details and a Screenshot to [email protected] Bank charges are applicable and must be included during initial transaction.
Bank Name: HDFC Bank
Bank Address: Hughes Road Branch, Mandek Lodge, 85, N.S. Patkar Marg, Mumbai – 400007 (India)
A/c No: 50100225115377
IFSC Code: HDFC0000567
MICR Code: 400240072
Swift Code: HDFCINBB
Contact Details
Sir Ratan Tata Institue (Annexe), 30 N.S. Patkar marg, Mumbai 400007, India
Email id: [email protected]
RTI office landline: +91-2266648847, +91-2266236934
Anushka cell: +91 80820 06093
Shivani cell: +91 98335 57490
Course Requirements for certification:
Students needs to fulfil the following in order to earn the AMI diploma:
90 % attendance for lectures.
100 % attendance in supervised practice.
250 hours of observations with submission of notes and summaries.
Material Making Requirements.
Completed Albums.
Practice Teaching.
Career Opportunities
Successful completion of the course which includes fulfilling all the requirement of certification will result in a AMI Diploma. Successful candidates can work with parents, set up and lead Montessori environments for children under 3 years.
Course Content
The course comprises of lectures and demonstration lectures/presentations in the following areas-
Montessori Pedagogy –These lectures will provide students an understanding of the Montessori philosophy primarily in context with the child under 3 years, with some reference to older children.
Medical Text- This comprises of Anatomy and Physiology, Obstetrics, Nutrition, and Hygiene. The purpose of these lectures is to provide an overview of basic body systems in relation with other areas of course content, information on pregnancy, birth, puerperium, relationship between physiology and psychology of the fetus and mother and how it aids development throughout life, correlation between nutrition and development and an understanding of prenatal hygiene as well as information on child health, safety and pediatric concerns of the new born and children under 3 years.
Child Neuropsychiatry- These lectures focus on understanding of the functioning and anatomy of the child's mind as well as the aspect of the physical and human environment that influences the development of the personality of the child.
Community Environments- Practical guidance and principals to set up communities for infants and toddlers in a community environment. These include demonstration lectures on how to present developmental materials to children in language, art, music, practical life as well as food preparation in the communities.
Psycho-Sensory Motor Development – These include lectures and demonstration lectures on activities for visual, tactile and auditory experiences, activities for development, and refinement of gross and fine motor skills.
Home Environment- This focuses on the lectures and rationale behind setting up home environment to meet the developmental needs of the child.
Upkeep of the Environment
Environmental duties will be assigned to students during the second module on a rotation basis where they will be responsible for cleaning and maintaining the environment as a preparation for their work as Montessori Educators.
Supervised Practice
100 % attendance is needed for supervised practice. Students will engage in practicing with the materials in order to understand their theoretical and practical applications. Students will individually practice how to practically present activities to the child and reflect on the effectiveness of the presentation and its essential elements in respect to the development of the child.
Observation
Observation is the most important task of a Montessori Educator. During the interim period of the modular course, students need to undertake 250 observation hours of children of different ages and will be required to submit observation hours and developmental summaries as guided by the Director of Training.
Practice Teaching
Practice teaching is required for a mandatory number of 20 hours in 0-3 environments and must be completed satisfactorily. Each student undertakes a self-assessment of their practice and is also assessed by those responsible for the environment.
Material Making
This is an integral part of our work as a Montessori Educator. Creating materials with our hands is a transformative exercise, that helps us understand value of these materials for children. There will be some sewing assignments for which students will need to have access to a sewing machine during the first module. Students will be offered detailed tutorials during the course and guided in the process of making materials. These materials need to be approved by the Training Staff and will also be reviewed by the external examiner.
Interim Assignments
In the interim period between the two modules, students are expected to complete the albums, material making assignments from the first module as well as complete 250 hours of observations, with an aim to observe for 25 hours and write summaries every month. Details on how to observe, and how to summarize will be shared during the course.
Theory Discussion Groups
These are structured to lead the students into discussion groups where students can individually and collectively deepen their understanding of Montessori philosophy and pedagogy in the light of their growing experience. Questions will be posted beforehand which the students could use to discuss in their break out groups in the first module.
Reading Sessions
This will be the asynchronous part of the student's work, students are expected to purchase the books and read them along the lectures to connect with Dr. Montessori's ideas and perspective. This helps to deepen one's own understanding and make full advantage of the course. We may, time permitting, have a few guided reading sessions.
Written Assignments
Students are expected to create original curriculum manual or albums which are composed of lecture notes, illustrations, explanation pertaining to Montessori teaching techniques and materials in each of the area.  These manuals or albums reflect the curriculum and are evidence of student's synthesis of knowledge. They become personal reference material and hand book to support the students in their future work with children. Students will be expected to send their written assignments, that is their lecture notes to the readers assigned to them via email every week. Once the readers find their work satisfactory, the students can print and place them in the album. Students are expected to submit their albums to the training staff for final approval as well as present them to the external examiners during the final oral examination to review.
Review Sessions
These sessions are held in the second module to enable students to review their understanding of the theoretical and practical aspects of the Montessori Education and help them prepare for the final written examinations. Review sessions and Mini Oral exams are also held to help the students prepare for the final oral examinations.
Written Examinations
We will hold practice exams in the first module to have students practice writing an exam.
There will be two final written exams in the second module, Paper A and Paper B. Each exam is for 3 hours, administered by the Training staff. Students need to select 4 out of 7 questions offered on each examination. A passing grade of 50 points is required on each examination.
Oral Examinations
Each student is required to demonstrate their knowledge of theory and practical application of Montessori theory during a 2-hour oral examination before an examining committee of the Association Montessori Internationale. A grade of 12.5 put of 25 points in each of the four areas is required to pass the oral examination.
In order to sit for final examinations, all albums (materials reference books) and materials need to be complete and have received a pass.
Training Staff
Trainer
This course will be conducted by AMI Birth to 3 trainer Vibhuti Jain.
She earned her AMI diploma at the 0-3 level in 2009.
She joined the Training of Trainers program in 2017 where she was attached to TMI Denver, USA for 2 courses and then to Chongqing, China for the third course. She earned her Trainer status in February 2022.
Administrative Assistant
Shivani Shroff earned her 3-6 diploma from RTI, Mumbai in 2013 and 0-3 AMI diploma from MIB Bangalore, India in 2021 and has been working with children for 7 years. She has been a staff at RTI for 9 years. She will be assisting the functioning of course on a day to day basis as training staff.
Course Assistant
Charmy Karania earned her 3-6 diploma from RTI, Mumbai in 2010 and 0-3 AMI diploma from TMI Denver, USA in 2018 and has been working with children for 11 years. She will be assisting the functioning of course on a day to day basis as training staff.
Administrative Staff
Anushka Dhotre earned her 3-6 diploma in the year 2020, worked with children and has been assisting Ms Zarin Malwa, 3-6 Director of Training at RTI for the last 3 years.
Reading List
Required/Compulsory Reading
| | |
| --- | --- |
| Understanding the Human Being | Montanaro, Silvana Quattrocchi, M.D. |
| Medical Text | Provided by AMI |
| Education for a New World | Montessori Maria |
| The Absorbent Mind | Montessori Maria |
| The Child in the Family | Montessori Maria |
| The Discovery of the Child | Montessori Maria |
| The Formation of Man | Montessori Maria |
| The 1946 London Lectures | Montessori Maria |
| The Secret of Childhood | Montessori Maria |
Recommended Reading
| | |
| --- | --- |
| What's Going on in There? | Eliot, Lise, PhD. |
| Childhood and Society | Erikson, Erik |
| Oneness and Separateness | Kaplan, Louise |
| Touching | Montagu, Ashley |
| The Interpersonal World of the Infant | Stern, Daniel |
| Maria Montessori: Her Life and Work | Standing, E.M. |
| Montessori: A Modern Approach | Paula Polk Lillard |
| What You Should Know About Your Child | Montessori Maria |